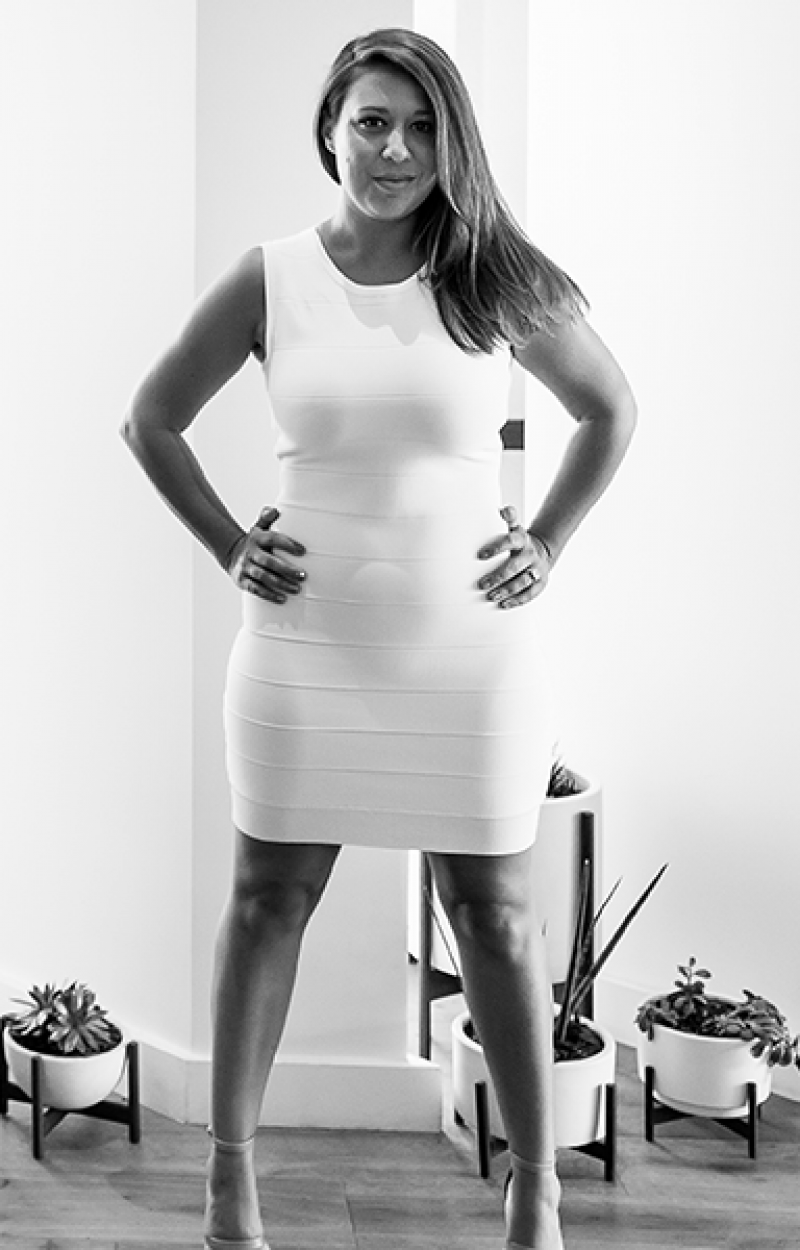 GET STARTED BY JOINING THE WAITLIST
Are you committed to making 200k?
When you want a roaring fire, pour gasoline on it. That's exactly what we do in 200k Mastermind.
Whether it's 200k in a year, six months, a quarter, or a MONTH, it's the exact same process.
Pouring gasoline doesn't mean pouring more WORK into your work week, it doesn't mean complicating your business with a million new offers, and it doesn't mean you need an advanced funnel to attract clients.
In 200K we keep things SIMPLE.
LESS = MORE.
Less offers. Less outside influence of what "other coaches are doing". Less content creating. Less payment options. Less everything.
But that will be the MOST challenging part.
It will require maturing up. It will require constraint, discipline, and taking responsibility for when and how you create money.
In 200k you will set money goals, and trade indulging in confusion with making decisions and implementing.
You will trade negotiating with yourself for commitment and honoring your word.
And you will not get lost in drama; everyone moves forward together. The entire mastermind.
There are a lot of people on the internet telling you how hard it is to make money.
Selling you on the idea that only the top 1% make money in this industry and you HAVE to get their secret or you will end up living in a box.
That just isn't true. And I don't want you to join THIS mastermind out of fear.
The coaching and online education industry is the most lucrative industry in the world right now. More clients are showing up every day. Ready to be coached. Ready to pay you money. Ready for a massive transformation.
I think the opportunity for money is as available to us as drinking water, air, and going to the ocean.
Once you have made your first 25k, making 200k…is right within your reach.
In 200k you will learn how simple it can be to make huge leaps of growth in small amounts of time without a lot of fuss.
Candy came in having made $28,000 from January to August. She made $45,000 in just SIXTY days after joining…all new cash in her business. After 90 days, she has a yearly revenue of $85,000 and is on her way to her first six figure year.
And her biggest fear coming in to the mastermind? That she would have to sacrifice her physical and mental health to make more money.
Here is what she reported after her $40k pay bump.
"I did it. My head is whirling it the most amazing way. I feel so grateful and humbled and proud. I feel no exhaustion-that's one of my biggest break-throughs. My practice is full at 20 clients and I have 1 on a waiting list who paid a deposit. My head is whirling in amazement. Not exhaustion. I am a different person because of it and I love this version of me. It all works."
Instead of running the money race, you will go after your goal in a way that feels controlled and not graspy and hustley.
After all, making money should ENHANCE your life….not run it into the ground.
Here is what you get when you join 200k Mastermind.

LIVE 3 Day In Person Event:
The 200K LIVE event marks the start of the mastermind. We spend three days together intentionally laying the foundation for everything you need to know to make 200k, coaching, and get you mentally ready for six months of immersive application.
We make ALL the big decisions TOGETHER face to face.
We don't spend six months making your money back, or learning how to make 200k. You make your money back in the first 30 days, and spend six months applying what you learn at the LIVE EVENT and making money.
Weekly group coaching for six months:
You left the LIVE event, you have an exact plan for the next six months, now it's time to implement. Every week we mastermind together with structured calls that mix core teachings to support your growth and coaching to move you towards your goal. You get feedback from myself and your peers. You get weekly focuses and monthly challenges that keep it interesting and engaging.
FB Community to get Coaching and Mastermind:

Between calls, there will be coaching needed. And you've got it. From your colleagues. From me. This is the BEST room you could ever put yourself. I only select a small group of coaches each round, and I choose wisely. I look for the most COMMITTED to improvement, with a track record to prove it. My goal for my businesses is always to be the best student and be the most improved in the end. That is what I look for in this mastermind. There is a science for growth and part of that equation is surrounding yourself with excellence.
Access to ALL past LIVE event footage:

All LIVE events are filmed, and you get access to all of them. You get to virtually learn and grow with each group of coaches who have ever gone through the program.
Past LIVE events include, "Setting up your 200k Business" and "How Money is Created".
Personal Guidance and Mentorship:

Have a question about when to start a funnel? If you should raise your prices? How to transition from 1-1 coaching to group?
Business strategy is NOT one size fits all. You need someone on your side that can help you develop a custom strategy rather than give you a fill in the blank business model and plan. That's where causal coaching comes in. Advanced mindset + actual business mastery from a coach who has created a multiple seven figure business and dozens of six figure businesses for her clients.
This mentorship is led by YOU and your choices for your business from your three year plan, that you will create in the mastermind.
You either make your money back or I give it back to you.
Now, you might be freaked out over a 25k investment. And you should be. This is a BIG decision. A $200,000 one.
But don't make it, if investing the money will freak you out beyond recovery. If you won't be able to focus on making money in a non-graspy way, then now isn't your best time.
Yes, it is an advanced investment. For the right person, this investment will continue to pay you back for the rest of your career.
You pay $25k, and you make $200k. That may take you 6 months, a year, or two.
But once you make $200k, you know how to make it for life.
And $200k, sets you up for $500k, a million, and MILLIONS beyond that.
Only apply, if you really GET this mindset and are committed to making your investment back in THIRTY days.
You will get everything you need, no matter where your business currently is, to do just that, in the first 3 days of our mastermind.
Having the right mentor on your side is like having a fairy godmother. Except your carriage doesn't turn into a pumpkin at midnight. Instead your business thrives forward year after year.
Right now, you might be weary of trying to make A LOT more money than you are now, for fear of what you will have to give up at 200k, 500k, and 2 million.
Time with your family.
Close personal connection to your clients.
Or what you will sacrifice or have effected….
Your creativity and free flowing schedule.
Your relationship with their spouse.
Your parenting values.
The alternative is to think of what you will gain. BECOMING the person who sets and achieves your goals on a regular basis will BENEFIT all of the things that matter most to you in your life.
I love my client Lindsay's story…she is such an example of what is possible…when becoming someone NEW, is BETTER for everyone in your life, and most importantly YOU. This is a just ONE really awesome by-product of showing up for yourself every day and achieving all of your wildest dreams.
The next class of the 200k Mastermind is enrolling soon.
NOW is the time to prepare.
Join the waitlist and get access to…
– Enrollment dates & 200k Mastermind requirements
– Location & dates for our LIVE 3-Day event
– Weekly lessons from inside our current group
– Inside information on how the $200k+ earners did it
Get on the list and get into the advanced room.
GET STARTED BY JOINING THE WAITLIST
Here are what the 200k students have to say –
I joined 200k in January 2021 and have almost tripled my income.
I coach professional men from burnout to leadership.
200k Mastermind still powers my dreams through precision coaching, highest level thinking, and elite teamwork. Thought leadership seems so much easier now, my copywriting skills sprang to life, and I'm 6 months into my podcast. I feel confident and self-assured and I'm 100% passionate about all of it.
A lot has changed in one year since being in 200k. I have grown and upleveled. My mind has become highly focused and naturally clear. Trained, you could almost say!
My 2022 goal is 400k. Easy.
-Dex Randall
12 Months Revenue when I joined 200K for my first round:

$215,000. 12 Months Revenue after completing my first round: $327,275. That's a 35% increase in one round and each month continues to increase.

When I joined 200K I was pretty happy with my income – I was already making 200K! But I questioned whether the money was worth all the hustling and stress it took to make that amount! I was exhausted and overwhelmed, thinking, it might be easier just to go coach for someone else instead of working this hard for $200K. I was juggling to keep many balls in the air, and dropping balls on the regular.

I thought the only way to make more money was to scramble more to get more people and keep creating new things to attract them! And that was taking so much time and effort. I wasn't enjoying my life, felt like I was constantly working.

I started listening to Stacey talk on the podcast and in her emails about how to reach $200K and beyond I'd need to slow down and focus.
This did not seem possible – if I slowed down how in the world would I reach my goals? The more I listened to her, the more it sunk in that there was a better way, a very methodical way of scaling my coaching business that worked much better than what I was doing. I knew joining the 200K Mastermind was where I was going to learn the skills of scaling and being supported through coaching all the while learning and implementing these skills.

I have never invested $25,000 in my brain. I've bought cars and houses and paid for kids' college. But investing $25k in ME? Taking that singular action – putting $25K on my credit card for ME was a huge growth step. I immediately felt like I was worth this – and more. This is a no-brainer. Of course, I'm going to invest tens-of-thousands in me. Because my brain IS my business. Of course, I'm going to pay top-dollar to up-level my brain.
The 25K investment is now part of my self-concept. I will always invest in myself.

I joined 200K in May 2021 and started watching the training videos and the previous MasterMind. In those videos, I learned the key that changed everything for me – I needed to focus on ONE thing. One simple offer.
I still felt doubt but I trusted Stacey more, so I put aside my doubt and focused on one offer for the 3 months leading up to the live event.
I made my money back well before we arrived at the live event.
The live event solidified my belief even more. I decided before the event that I would believe and try everything that Stacey and my mentors coached me on.

After 6 months I know $500,000 this year is inevitable. I now see the clear and doable, methodical path to scaling to $500K, $1Million, and beyond.

And I'm only just beginning.

– Charlotte Smith
I created a 6-figure business in my first 6 months, and $300k my first year in business! I am now in my 3rd round, and I am tracking for $500k this year.
I joined the 200k Mastermind in August of 2020. I had just started my business coaching practice that March, and knew immediately that coaching others was what I was created to do. I wanted to invest in high-level coaching to scale to 6-figures quickly. And after experiencing 2k for 2k for a few months, I believed that 200k would be the perfect container. I went on to create a 6-figure business in my first 6 months, and $300k my first year in business! I am now in my 3rd round, and am tracking for $500k this year.
Aside from the financial results, and retiring my husband, I have created a calm and confidence in my business that has impacted my entire life. I've also formed some deep friendships with other like-minded entrepreneurs. The best part? I'm just getting started. I am so grateful for Stacey, and the impact she has had on my life and the resonating impact she has had on the people I serve.
– Rachael Bodie
In the first 6 months of 2020, I made $24k. In the first six months of 2021, I made $80k. In fact, this year I had a $24k MONTH!
How did I 3x my money? Simply by being in Stacey's 200K Mastermind.
In 2K for 2K, I made my first six figures. Now, the 200K Mastermind is teaching me how to multiply that without multiplying "the hustle." Stacey helped me commit to serving artists as my clients. She supports me in showing up as the self-sufficient CEO of my coaching business – and my life – so I can model for my clients how they can be the CEOs of their story, too. And the great news is CEO's take naps and can still create everything they want! As a result, I am the coach, artist, wife, mom-to-be, and whole human being I've always wanted to be. And for extra credit, I now also have an amazing brain trust of fellow coaches I am rising with together. There is no better crew I'd rather make multiple six-figures with (and beyond). Thanks Stacey for holding the space for our collective success!
– Nancy Sun
You just learn how to make money faster and faster. In the first 3 months of 2021, I made $19.5k, and already, in just 2 months of this round of the mastermind, I've sold $65k worth of coaching. 
This is the place for exponential growth.
The self-concept you have to develop and embody being in the room with other elite coaches is worth the entire investment itself. $200K is the room where you commit to becoming deep down who you know in your bones you already are.
The financial goals I have achieved are just a by-product of who I was willing to become. Stacey's container is the place where you have access to the highest level of thinking and being.
The assets in this program support you in every issue, every challenge, every obstacle that would prevent you from achieving your goals. There is nothing she hasn't already thought of to help you. There has never been a time where I didn't know what to do, because of how she's taught me to think, and because of all the support and resources available 24/7.
In $200K I've learned to love and embrace exactly where I am, as I also build for where I know I am going. There is no better room to be in. The experience is beyond words. And the massive amount of money you make is just a bonus for becoming a coach of immense value to your best clients.
– Dr. Chavonne Perotte
I made more than 6 times my investment in my first round!
I'm a Physician turned Life Coach who helps South Asian professional women lose weight permanently using mind management.
Within a month of starting my business in September 2020, I joined 2K for 2K. Before joining the 200K mastermind, I made 63 times my investment back!
I knew the 200K mastermind was the perfect place for me to help grow my business so that I could help more of my ideal clients.
In May 2021, we got early access to the 200K portal and I made $56K before we even started! During the first round of the 200K mastermind, I made another $96K. So I made over $150K in the first round, during my first full year of coaching. 
My mind was BLOWN!
I am now in my 2nd round of the 200K mastermind. This year, my aim is to maintain my income while moving from 1:1 to group coaching.
My business is so much simpler and I am only speaking to my best clients. I am raising my self-concept to be the 7-figure coach I am becoming in the next few years. The practice of intentional thought creation has been life-changing for me and I use it in all areas of my life. Constraining to the same 200K process and applying it deeper and deeper each round has been so powerful.
I am so so so thankful to Stacey for helping me become the first South Asian coach to receive the $200K award. It meant so much to me and helped reinforce the importance of following my dreams as a South Asian woman, even if it is against cultural norms.
If you are thinking of joining, you will not be disappointed. Stacey over-delivers EVERY SINGLE TIME!
– Dr. Amruti Choudhry
From $30k in 12 months to $306k in 12 months.
Prior to joining the 200k MM, I was obsessing about my business, waking up stressed in the middle of the night, and noticing the toll it was taking on me and my family. Even though I was working all the time, I had only made $30k in a 12 month period. I am currently in my 3rd round of the mastermind and I have created $280k in 12 months AND $100k in the last 2 months alone! I feel more at ease and peaceful in my business than ever before. The best part… I created all of this while pregnant with my 3rd child and with the tools we learn in the mastermind, I will continue to make the money I want AND take time off to be with my new baby.
Stacey teaches us how to create immense value for the people we serve and that is why this is possible… to have it all.
What you learn in this mastermind is so much more than learning how to sell with value, it is learning how to be the business owner you WANT to be. It is finally sinking in, that I really can have it all, and that is available to all of us.
– Laura Dixon
I've created $204k and collected $194k in the past 12 months while delivering value with ease and loving myself rich.
Deciding to be IN the 200K Mastermind will change your life. Getting in the 200K room will up-level your business results for the rest of your life. 
Now in my fourth round, I've created $204K and collected $194K in the past 12 months, while delivering value with ease and loving myself rich.
When I first started, all of this felt impossible. But over and over again, the ROI grew and compounded. 
First-round, which coincided with the pandemic, I made $54K: 2X ROI. Stacey coached me through a low point in my self-concept and since then, I've never looked back. 
Second round, I made $77K: 3X ROI. After a death in the family, I was supported to take bereavement leave, to come back, and to make bigger amounts of money with peace in my heart. 
Third round, I made more than $100K: 4X ROI. Now in my fourth round, I am now a $200K earner and on track to easily do 5X (or more) the investment…and I now have the skill to do it over and over again for the rest of my life. 
Joining the Mastermind has been by far one of the BEST decisions I've made for myself, my business, and for my current and future clients.  
– Jamie Lee
I believe
that
my
million-dollar
business
is inevitable.
I started my coaching business in 2019 after transitioning out of financial planning. I joined 2k for 2k in May, started creating consistent $8k to $10k months, and made $87k that year. 
In August 2020, I joined 200K. I created $155k in 2020 and $204k in 2021. 
I'm now in my fourth round of the mastermind and I'm on track to make $300k this year as a business & money coach for midlife entrepreneurs. I believe that my million-dollar business is inevitable. 
The 200K Mastermind is the container that pushes me to think clearly and precisely about my clients, their results, and how I can serve them better. I have honed my offer and unique process and trust myself deeply. The two most important skills I have developed in this room are letting go of the hustle and having my own back. That means analyzing the data when something goes – or doesn't go – according to plan, and not comparing myself to other coaches who may create money more quickly than I do.  
As a mom of a large family (8 kids and 13 grandkids), trusting the 200K process, staying in my lane, and turning off from my business when it's family time are the keys to my growth.  Learning from the collective genius of my peer coaches is the whipped cream and cherries on top. 
I am so grateful to Stacey for creating this Mastermind – which improves with every round! This is the room I choose to be in for my continued growth and success. 
– Debbie Sassen
Total Revenue Generated in 200k Mastermind – January 2019 to October 2021 –
$708,901
When I started working with Stacey in December of 2018 I had made 47 thousand dollars that year. I have now made over 300k in a 12 month period.  According to the percentage calculator, that is a 538 percent increase. 
I am so proud of that success not just for the money but for the impact on people's lives that money represents. 
I absolutely love being in the 200k Mastermind and having Stacey be my business coach. I love the way she teaches and coaches with so much integrity and thoughtfulness and truth. And the community of CEOs that she has built. The 200k Mastermind is a place where you can feel so supported in creating results in your business by the process, by the philosophies, by the coaching, and by the people. 
It's also a place to learn how to stay in your own lane and run your own race. Some people will be making more money than you and others less. Everyone is at different stages in their business, filling 1:1, creating their first group, practicing launching. Being in the room requires you to bring emotional maturity to your business and your work. To be more thoughtful and to question things in a way you haven't before. The concepts we follow like The Simple Offer and The 3 Year Plan require us to focus, constrain, and work through limiting beliefs and to evaluate and course-correct regularly. 
You became a life coach when you started helping people, in this mastermind, you become the CEO of a multi-six-figure life coaching company. And it is wonderful and rigorous at the same time. 
I call it the Navy Seals of masterminds because I think everyone should know – the results we create are exceptional, but the work we do to create those results is exceptional too. 
Stacey is always learning and growing and I am learning and growing along with her. I am so grateful for everything she has taught me and for how she holds space for my dreams when they seem far away to me. She is a phenomenal coach and a brilliant businesswoman. If you are thinking about applying, DO IT. 
Total Revenue Generated in 200k Mastermind – January 2019 to present – $708,901
-Maggie Reyes
$214k cash. That's how much money I brought in by the end of my first round of 200k mastermind. This mastermind transformed the way I think about business.  
Paying the first $25k scared the crap out of me. I ended up making no money the month after I invested. But having access to all the modules and past calls immediately after purchase was GOLD. Access to the past calls, modules, and courses within this program alone is worth the $25k investment. Using the resources available before the live event coached me into making over $40k before I even attended.
I had some momentum in my business before coming into the mastermind and I was ready to scale fast. 200k Mastermind slowed me down in the best way possible. In my first round, I made over $100k and did it while spending more time with my family and learning how to detach myself from my business. Instead of scaling fast, I challenged myself to become the coach who sells five-figure coaching packages while building even more demand. Doing this prepared my business and my mind for even more growth. Now, in my second round, I feel so much more prepared to double and triple my business.
– Cat Del Carmen
In 2020, I made $85k as a coach. Then in 2021, I joined the 200k Mastermind and I made $424k.
Clearly, it works.
And this is why I will always use the 200k process.
Of course I want to make money, let's be honest, it is so much damn fun to make it, have it, save it, and spend it. But what is even better is that the money I make is representative of how many people I am helping to lose weight for the last time + be free from food drama forever. AND when I make more money it makes it possible to help more mamas faster.
If I am going to do what I say I am going to do which is to FREE 1,000,000 MOMS by helping them to lose weight for the last time, then I need the 200k process, my colleagues, and the coaching that can only be found here. I freaking LOVE this room and Stacey! I am ecstatic I get to be a part of it!
– Laura Conley
I enrolled in my first round of 200k in May of 2020. Four rounds later I have made $319,000. WHAT?! That is a 219% return on my investment.
The 200k process is the only thing I used to grow and scale my business while becoming a mom for the first time. In my second round of 200k, I took three-month maternity leave, came back, and sold out a new group offer. Now $50k+ launches are my norm. 
The 200k process works for your business. But even more than that the 200k process transforms coaches into self-sufficient business owners.
Now I have more self-trust, self-awareness, and self-love. I know that my business will grow into a million-dollar business with ease, while I prioritize my life, my family, and my wellbeing. 
Get yourself in this room. 
– Jackie Murphy
The 200k process has helped me unlock my own genius and become the coach who consistently creates $25,000 and $30,000 months.
I've created over $230,000 in the last 12 months.

Making money is just what I do AND every dollar represents impact.
The 200k process has helped me unlock my own genius and become the coach who consistently creates $25,000 and $30,000 months. I've become a better coach and learned to trust my own genius. I've seen the shift in my own beliefs translate into amazing results for my clients. As I make more money, my clients also make more money. As I increase my level of belief I'm able to lend this same certainty to clients all as a result of being in the 200k room.
 – Keina Newell
I became a coach earning over $200k in 12 months. In fact, now, $40k and $50k months are the norm for me. I remember seeing other coaches talk about having months like that in their businesses. Now, I'm one of them.
I came into the 200K Mastermind having already made $170k in my business between April 2020 and August 2021. I consistently had five-figure months, which on average totaled $15k. But the growth that came after beginning my first round, which kicked off August 2021, was impressive, to say the least.
I thought I wanted to transition to group coaching immediately, but once I was inside the 200k Mastermind, I learned that hustling my way towards that transition was not what was best for my business. Instead, I learned how to slow down and build the skill set I would need to eventually scale.
I became more decisive in my business. Throughout my first six months, I made empowered decisions that supported my personal and professional growth. I raised my prices. I began selling via email. I learned to oversell. I started selling out coaching spots months in advance. I also focused on overdelivering and getting my clients 100% results—all things taught within 200k. All of these transformations seemed out of reach to me before joining 200k.
Once I made these changes, I unlocked the next level of success in my business. I became a coach earning over $200k in 12 months. Now, $40k and $50k months are the norm for me. I remember seeing other coaches talk about having months like that in their businesses. Now, I'm one of them.
Now, I am beginning to scale my business from 1:1 coaching to group coaching, and there is absolutely no other room I could put myself in to be better supported in that transition. Stacey has the recipe for how to successfully make that change. Learning from her is life-changing. As is being surrounded with the wisdom and encouragement I receive from my fellow masterminders. Investing in this program is undoubtedly the best investment I could have made in my business. There's no doubt in my mind that this is only the beginning.
– Olivia Vizachero
I made $300k in the past 18 months with the 200k process. That is ONE HELL of a return on my investment! 
I joined 200k in January 2021, just 7 months after starting my business.
I knew that if I followed Stacey's process, it would help me avoid many of the pitfalls that new entrepreneurs make.
My goal, when I first started my business, was to replace my salary as a pediatrician. I accomplished this within the first year of my business by joining 2k and then leaping to 200k Mastermind. I blew my mind. The best part of this was the fact that I was able to do so while helping so many amazing women become their own best friend and finally live a life they love.
I thought that joining the Mastermind would mean that Stacey would tell me what to do with my business. It turns out, Stacey has never coached me personally…not because there hasn't been time, or due to any lacking or scarcity. The reason that this has not been necessary is because what Stacey teaches us is to use our own beautiful brains to figure out what is best for us and our business. She empowers us to believe in ourselves and be willing to experiment and evaluate and put everything she teaches through our own discernment.
One of the most incredible things about the 200k Mastermind is the actual masterminding that takes place. It is the most supportive and brilliant room I have ever put myself in, and I plan to keep my place in this room, and keep adding as much value as I am taking away from the room!
None of us NEED to be in the 200k Mastermind, but I will keep choosing to be here because I WANT to be here! There is no place I would rather be.
– Melissa Parsons
In my first 2 months, I hit $200K and actually reached $300K by the end of my first round of the Mastermind.
I started coaching 15 years ago. Yes – 15 years ago, and I had never made it to multiple six-figures – Until I joined 200K Mastermind.
In my first 2 months, I hit $200K and actually reached $300K by the end of my first round of the Mastermind. The container that Stacey creates is unlike any other. It is high-level coaching with a standard that requires you to level up.
I have become a new version of myself. And now in the second round of the Mastermind, I am starting to see the road to a million-dollar business. It all starts with my thoughts and fully owning my new Self Concept.
– Wendy Amara
This year I will make $300k… and a million-dollar business helping women Stop People Pleasing just feels DONE.
In May of 2020, I applied to 200K on the day applications were due after reading one email from Stacey in May of 2020. I wasn't in 2K for 2K, but reading that email convinced me that Stacey had cleared the path to make more money that I was currently stuck on.
I hadn't yet made 25K as a coach. I came in as an underdog- meaning I was spending everything I had made and then some on joining. Some people around me had some doubts about that decision; but as I dove in, attended the online event, and just started to do what I could, it was like my self-concept was on steroids. I was in a room with so many women who were so successful in so many ways; I was in a Facebook community where I could get help on anything at any time. I was already willing to feel anything- failure, doubt, embarrassment- and have my own back, and now I was on the 200K superhighway. 
I still had to drive, I still had to keep going, I still had to show up and do the work- but Stacey had cleared so many of the obstacles out of the way that it was just so much easier. I wasn't alone, wondering if I was going to get the results I wanted. I knew it would work if I just kept going.  This year I will make 300K- and a million-dollar business helping women Stop People Pleasing just feels DONE. 
– Sara Bybee Fisk